Erika la princesse de l'accordéon & son orchestre
« Les inseparables »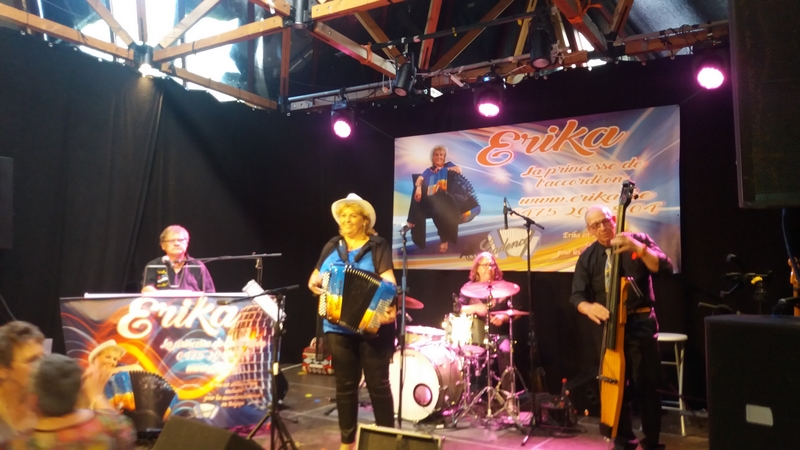 Ses origines
Née sous le signe du cancer un 13 juillet,
Erika est originaire de Tilly, charmant village sis non loin de Villers La Ville en Belgique, cette dernière localité, célèbre par ses remarquables ruines cisterciennes et ses nombreuses manifestations artistiques.
Issue d'une famille nombreuse, elle est la cadette de cinq enfants
Son milieu ! La musique ! Son père, sa mère, ses trois soeurs, son frère tous artistes musiciens. Sa voie est toute tracée. Son premier accordéon elle le reçoit à l'âge de cinq ans. .
Ses études
Son professeur, Monsieur Franz Lebrun du conservatoire de Bruxelles.
Ses études artistiques ; cinq années de solfège, cinq de classique et trois de musette.
Bien sur elle participe a de nombreux concours pendant son enfance elle a bien du plaisir a animer,
à l'école, les fêtes de Saint-Nicolas (en Belgique: la grande fête des enfants)
Mais pendant l'adolescence elle évite de parler à ses amis, de ses amours pour l'accordéon.
Déjà un instrument désuet ? Ringard ?
Les études étant longues, elle est prête a jeter le gant. Mais la providence veille! Une annonce d'un
quotidien retient l'attention de sa mère de jeunes artistes peuvent passer une audition auprès d'une
maison de disques.
Sa carrière
Le résultat ? En 1981 elle sort un premier 45 tours  » Ah le petit vin blanc » La musique la motive. Elle compose, prépare de nouveaux 45 tours et réussit une performance. Son titre  » Soleil » se classe troisième au hit parade de la sibessa. Un autre enregistrement se classe douzième. D'autres disques suivent. Dans le juke-box elle a sa place.
En 1993 un premier CD de 14 titres, tous de ses compositions. C'est le départ d'une carrière dont le succès s'amplifie.
Discographie
CD, la Miss du far West – CD, Olé Torréro –
CD, Happy Birthday -CD, Mon pays s'est le soleil – CD, Lily Bye Bye –
CD, Mexico – CD, La Fête a l' accordéon vol 1, vol 2, vol 3, vol 4, vol 5. vol 6,
Les CD Compilation Franco- Belge  (les champions de l'accordéon) – Guy Denys et ses amis (Bouquet Musette n°1) – Carte de visite Avec Jean-Pierre Lepoivre – Les Filles aux doigts d'or  une production de Michel Pruvot et Maurice Larcange-Spécial Medley avec André loppe-
CD Orgue Ambiance n° 1- n° 2 -n° 3- 4 CD La guinguette a JuJu n° 1 et n° 2
Grace a ses nombreux passages (Bals, Thés Dansants, Radios, TV ……) ses disques passent les frontières. On l'apprécie en France dans le Nord, le Pas de Calais, La Picardie, l' Est.
En Hollande où son style plait »  Le Luxembourg, si proche de la Belgique, La Bavière,…
En scène, soit avec son orchestre de six musiciens, soit avec son claviériste elle crée une complicité chaleureuse. Un répertoire très varié, du troisième age aux succès actuels. De la variété, de la bonne humeur, de quoi passer de bons moments et de garder de bons souvenirs.
Ses passages Radio:
RTBF, BEL RTL, NOSTALGIE, CONTACT, FRANCE INTER A PARIS, RADIO BLEU, FREQUENCE NORD PICARDIE, FRANCE HAUTE SAVOIE etc…..
Ses passages TV:
TF1, FRANCE2, FR3, RTBF, RTL TVI, BRT, TV5 EUROPE, VTM.
Les TV Locales:
TV GOHELLE, TV MELODIE, TELE SAMBRE, CANAL C, CANAL ZOOM.
Quelques évènements :
La rencontre internationale à Besançon, Festival à Gousainville, Festival à Péronnas, Rencontre à Termignon, Tournée à Thonnes, Festival à Floreffe Belgique.
Participation au tournage des films de Benoît Mariage 'Les convoyeurs attendent et l'autre' avec Benoît Poelvoorde, en Octobre 2007 elle fête ses 25 ans de scène,
Avril 2008 elle reçois l'accordéon d'or par son producteur Mr René Hermans se qui représente plus de 25.000 album vendu.
Août 2010 : 1 CD Orgue Ambiance n°4
Décembre 2010 : 2 DVD de 18 titres
Mars 2011 : 1  CD La fête à l »accordéon Vol 6
Mai 2011 : Prix du Profondevillois de l'année 2010
Juin 2013 : 1 Single 2 Titres « Parler à mon père »
Avril 2014 : Elle deviens représentante de la nouvelle ligne CARPENTIER « Foudre Erika »
Août 2015 : 1  CD La fête à l »accordéon Vol 7
Mai 2018 : Les accordéons Cadence ont réalisés une perle rare, une pure beauté. 
Un accordéon de 6 KG, 3 voix musette une résonance sans pareil.
Je suis fière les amis de vous annoncer que je suis la représentante exclusive officielle pour la Belgique des accordéons Cadence.
Des artisans où le respect de l'instrument se fait encore à la main.
Merci à Bernard pour sa confiance ainsi qu'à son équipe qui l'accompagne.
Erika, la Princesse de l'accordéon
http://accordeoncadence.fr/fr-accueil.html
Info: Erika la Princesse de L'accordéon
Rue du Bourdon 2
5170 Lesves (Profondeville)
Belgique
Contact: 0032(0)475/205.804
Website: www.erika.be
Email: erika@erika.be
Facebook: Fan club Erika la princesse de l'accordéon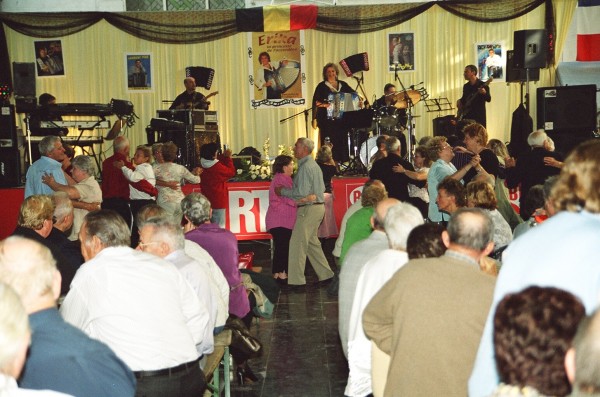 Bio Erika : Anglais
Origins:
Born on a July 13th, her zodiac sign is Cancer.
Erika is from Tilly, pretty little village close to Villers La Ville (Belgium), famous for its remarkable Cistercians ruins and its plethora of artistic demonstrations.
Born in a large family, Erika is the youngest of five children.
She grew up in a musical environment with her father, her mother, her three sisters, and her brother all musicians. Therefore, her path was clear and obvious. Erkia received her first accordion when she was only 5yo.
Studies:
Erika's teacher was Mr Franz Lebrun from the Brussels music conservatory.
Her curriculum: five years learning the theory of music, then five more years studying classical music, and finally three years specializing in « musette » genre.
Of course, she takes part to numerous contests during her childhood, and she discover the pleasure in animating parties at school, especially for the celebrations of Saint Nicolas who, in Belgium, is considered as the holy protector of the kids.
As a teenager, Erika prefer not sharing her passion for accordion with her friends as the instrument carries an image of oldies, old-fashions, and has-been music.
Studies are long, demanding, and she is close to give up when providence comes! Her mother reads in the newspaper about an audition for young artists who want to contract with a record company.
Professional career:
The result of the audition? In 1981, she gets her first 45 record « Ah le petit vin blanc » and that success gives a new boost in her motivation. She composes, and prepares new 45 records… and succeeds. Her title « Soleil » ranks 3rd in the charts of Sibessa. Another title climbs to the 12th rank. Other disks will follow. By that time, Erika's performances find a place in the jukebox.
In 1993, a first CD is released with 14 titles, all her compositions. Her career starts and success grows.
Discography:
First of all, the essentials of her CD collection: « la Miss du far West », « Olé Torréro », « Happy Birthday », « Mon pays, c'est le soleil », « Lily Bye Bye », « Mexico », and « La Fête à l'accordéon » vol. 1, vol. 2, vol. 3, vol. 4, vol. 5, and vol. 6.
The Franco-Belgian CD Compilation « Les Champions de l'Accordéon » (« The Champions of Accordion »), the performance with Guy Denys and his friends in « Bouquet Musette n°1 », the « Carte de visite » with Jean-Pierre Lepoivre, « Les Filles aux Doigts d'Or » (the Golden Finger Ladies) – a production of Michel Pruvot and Maurice Larcange, and the Special Medley with André Loppe, are also gems in her discography.
Not to forget the fourfold CD collection « Orgue Ambiance » n° 1, n° 2, n° 3, and n° 4, as well as the CDs « La guinguette à JuJu » n° 1 and n° 2
With countless performances (in Balls, for Tea-times, at Radios, on TV,…) her disks sell abroad. She is demanded in France (in the North, in Pas de Calais, in Picardie, and in the East), in the Netherlands where her style is much appreciated, in Luxembourg (so close to Belgium), in Germany (in Bavaria),…
On stage, with her six musicians orchestra, or just with her keyboardist, she creates complicity with the public and a warm ambiance always quickly takes the place. Her manifold repertoire covering oldies as well as modern hits, is tainted with variety, jolly humor, and all what is necessary for spending pleasant moments and keeping happy memories.
Radio performances:
RTBF, BEL RTL, NOSTALGIE, CONTACT, FRANCE INTER A PARIS, RADIO BLEU, FREQUENCE NORD PICARDIE, FRANCE HAUTE SAVOIE, and so on.
TV broadcasts:
TF1, FRANCE2, FR3, RTBF, RTL TVI, BRT, TV5 EUROPE, VTM.
On local TV:
TV GOHELLE, TV MELODIE, TELE SAMBRE, CANAL C, CANAL ZOOM.
Big moments:
The International Meeting at Besançon, the Festival at Gousainville, the Festival at Péronnas, the « Rencontre of Termignon », the Music Tour at Thonnes, the Festival of Floreffe in Belgium.
Her acting for the movies of Benoît Mariage « Les convoyeurs attendent » (in 1999, see IMDB: http://www.imdb.com/title/tt0201538/fullcredits?ref_=tt_c… ) and « L'Autre » (« The Missing Half » with Benoît Poelvoorde).
October 2007, she celebrated her 25 years career on stage.
April 2008, she receives the Golden Accordion Award (i.e. more than 25000 albums sold) from the hands of her producer Mr René Hermans.
August 2010: 1 new CD « Orgue Ambiance », the n° 4.
Decembre 2010: release of 2 DVD with 18 titles.
Marsh 2011: 1 new CD « La fête à l'accordéon », the vol. 6.
May 2011: Erika receives the Award « Prix du Profondevillois de l'année 2010 »
Juin 2013 : 1 Single 2 Titres « Parler à mon père »
Info: La Princesse de L'accordéon Erika
Rue du Bourdon 2
5170 Lesves (Profondeville)
Belgium
Contact: 0032(0)475/205.804
Website: www.erika.be
Email: erika@erika.be
Facebook: Fan club Erika la princesse de l'accordéon